What is your title at EvCC, and what will you be doing in your day-to-day endeavors at the College?
Grants Director. I'm responsible for bringing new grant funding to EvCC in support of our Strategic Plan, goals and resource needs.  I oversee and manage the College's grant program with the support of two Grants Specialists, Mary Ann Gillis and Dan Murphy. As part of the Office of Institutional Effectiveness and Resource Development, we're reaching out to faculty and staff in an effort to identify and secure grant awards that build on EvCC's successes and address challenges to meeting our mission. My particular focus is on developing large, multi-year federal grant proposals.
Tell us a little about your professional background.
My career in resource development began as a UNC-Chapel Hill undergraduate where I had a work-study job at the Student Coalition for Action in Literacy Education. (We won the first AmeriCorps grant in the State of North Carolina.) Since then, I've developed a strong background in corporate, foundation and government relations to benefit a variety of organizations including higher education, environmental conservation, health and human services and art.
What was your first job?
I worked as a hostess at The Original Pancake House every Saturday and Sunday morning in high school. Guaranteed pancakes at 5:30 am helped get me up in time for my shift.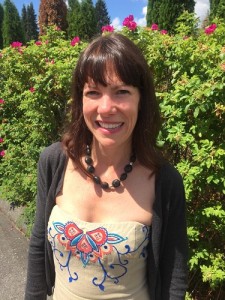 Describe yourself at 10 years old.
I loved school and was diligent about practicing piano, but any chance I had to play flashlight tag, go swimming, ride bikes or roller skate, I was out the door.
Are you messy or organized?
Yes.
What is your favorite meal?
My favorite meal is the one someone else cooked for me. It's not because I can't or don't like to cook, but because food is such a huge part of our identity and culture. It's a way to get to know ourselves and each other better.
What do you do in your spare time?
Sleep.
What's on your bucket list?
Try mountain biking, visit Alaska, Central and South America, make a quilt
What is your favorite hobby or pastime?
I really enjoy anything that takes me outside, but especially alpine climbing and hiking.
What are you reading right now/ what was the last book you read? (Or, what is on your Fall Reading List?)
I'm currently reading The Immortal Life of Henrietta Lacks by Rebecca Skloot. Next on my list are The Underground Girls of Kabul: In Search of a Hidden Resistance in Afghanistan by Jenny Nordberg and Thinking, Fast and Slow by Daniel Kahneman. My book club keeps me accountable.
Do you have a favorite newspaper or blog?
If you could witness any historical event, what would you want to see?
The Congressional approval and ratification of the 19th Amendment.
Where is your hometown?  
I was born in Indianapolis, Indiana, but spent an equal amount of time growing up in Charlotte, North Carolina.
Do you have a favorite quote/ piece of advice?
"At the center of your being you have the answer; you know who you are and you know what you want" – Laozi