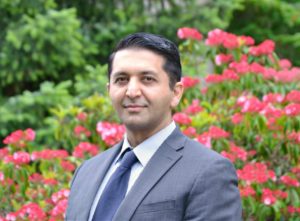 What is your title at EvCC, and what will you be doing in your day-to- day endeavors at the College?
My title is the East County Campus Director. I work with the community –  including the high school and the diverse community – to ensure we meet their short-term and long-term academic goals.
Tell us a little about your professional background.
One of my first jobs was working at a community college. Ever since then, I loved working in higher education. I worked as an assistant with many different college programs. Afterwards, I was promoted as an Academic Coordinator and Assistant Director for the University of California Santa Cruz. Later, I was promoted as the director of the Math Engineering Science Achievements program, Student Development and Student Health Center for Solano Community College. While there, I worked as a Residential Director for the University of California Merced and served as a research assistant for International Center for Social and Emotional Competence at the University of Pacific, Stockton. At the same time, I started my Educational Services Company and worked with international and out-of- state students by providing counseling services and engagement activities. I was again promoted as the first-ever Director of Campus Life and Student Activities for Berkeley City College.
What was your first job?
I was the student assistant for the Educational Opportunities Programs and Services (EOPS) at Modesto Junior College. EOPS is a service program for economically and educationally disadvantaged students.
What does a typical day look like for you?
I start off my day reading my e-mails before I get to the campus, often replying to them as needed. I review my schedule for the day. When I arrive at the office, I speak to my staff about upcoming activities, events, and issues. I have meetings with community leaders, students, faculty, etc. throughout the day. During free times in between my meetings, I work on projects.
Describe yourself at 10 years old.
I was just beginning to learn English. My life revolved around cartoons (Bugs Bunny and The Roadrunner), school, friends, and my cool bike.
What's the one thing you can't live without?
I can't live without my phone because it is connected to everything else.
Are you messy or organized?
Both. Rest assured, I have a method to the chaos.
What is the most important/valuable thing you have learned in the last five years?
It is important to work toward your goals, regardless of what obstacles you face.
What's on your bucket list?
Traveling to as many countries as possible. Learning a third language fluently.
What is your favorite hobby or pastime?
Hiking, Kayaking, and getting better at a sport
What are you reading right now/ what was the last book you read? Are you participating in any reading challenges?
The last book I read was Emotional Intelligence by Travis Bradbury.
If you could witness any historical event, what would you want to see? Why?
The creation of the Apple Computers. I am in awe of Steve Jobs.
Where is your hometown? Were you born and raised in the same place?
My hometown is San Francisco Bay Area, California. No; I was born in Kabul, Afghanistan and was raised in Los Angeles, California.
How many homes have you lived in since you were born?
20+, I have lost count.
If your life were a book, what would it be titled?
Sunrise!
Do you have a favorite quote/ piece of advice?
"Every accomplishment starts with a decision to try it."