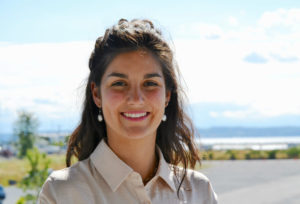 What is your title at EvCC, and what will you be doing in your day-to- day endeavors at the College?
I am a Program Specialist for the Corporate and Continuing Education Center. In general, I will help students register for CCEC, maintain materials for classes, and give amazing customer service!
Tell us a little about your professional background.
I previously worked for Nordstrom Rack as an Assistant Women's Department Manager.
What was your first job?
My first job was lifeguarding at a swim and tennis club.
What does a typical day look like for you?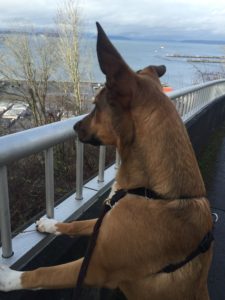 I wake up, walk the dog, eat a good breakfast and make a cappuccino (breakfast is my favorite meal). I go to work and on weekends, I do chores and eat lunch (which, may also be my favorite meal). After work, I catch up with friends, spend time with my family and then eat dinner (my day revolves around food).
Describe yourself at 10 years old.
At 10, I only wore converse (still my favorite shoes), and I wanted to be a vet. I pretended I was a dog and sometimes even ate milk bones.
What's the one thing you can't live without?
The smell of spring and cappuccinos.
Are you messy or organized?
Organized in a messy fashion (I know what's going on, others may not).
What is the most important/valuable thing you have learned in the last five years?
That "money is just something you throw off the back of a train". It's a line from a Tom Waits song; it reminds us that money is not everything.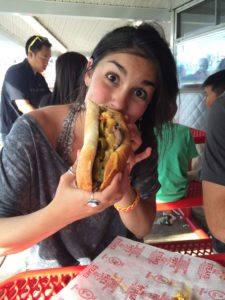 What's on your bucket list?
I would like to go to India and Japan, see all 50 states and bungee jump
What is your favorite hobby or pastime?
I like drawing, reading, and cooking!
What are you reading right now/ what was the last book you read? Are you participating in any reading challenges?
I just finished reading Beautiful Ruins by Jess Walter. Up next is The Alchemaster's Apprentice by Walter Moers.
If you could witness any historical event, what would you want to see? Why?
I would like to have seen dinosaurs roaming the earth, before human civilization and when huge animals ruled!
Where is your hometown? Were you born and raised in the same place?
I'm from the 206!! Seattle, born and raised!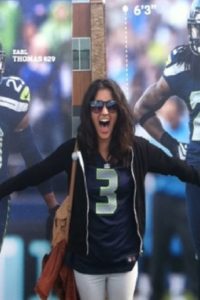 How many homes have you lived in since you were born?
8
If your life were a book, what would it be titled?
The Life of Anna: As Told From the Perspective of Niya the Dog In-between Mealtimes With Short Excerpts About Traveling, Food, and Other Fun Stuff
Do you have a favorite quote/ piece of advice?
"I don't count my sit-ups: I only start counting when it starts hurting because they're the only ones that count." – Muhammad Ali
"Some people talk to animals. Not many listen though. That's the problem" – A.A Milne