What is your title at EvCC, and what will you be doing in your day-to-day endeavors at the College?
My title at EvCC is Director of Program Development – Criminal Justice/Fire Science, the Public Safety Programs of the Health Sciences and Public Safety Division. I act as the hub between faculty, staff, and the dean's office, and I'm involved in partnerships and outreach to our programs' professional sectors while driving recruitment and overseeing the staff side of our day-to-day efforts.
Tell us a little about your professional background.
Before EvCC, I was at the Evans School of Public Policy & Governance at the University of Washington, where I managed a mid-career degree program and their continuing education courses. For much of that time, I also volunteered as the operations manager of a small pet rescue nonprofit based in Eastern Washington. Prior to that, I worked at Seattle Central (at the time, Community) College, from where I also attained my AA degree. The diversity and direct social impact of a community college can't be beat, and I'm excited to be here at Everett Community College to experience that connection and impact again.
What was your most memorable job? Why?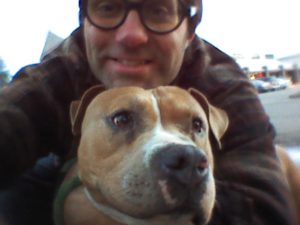 My most memorable job was probably my first public sector job, working at the US Census Bureau in their regional office at the age of 19. Basically, the area office had to hire an entire set of staff—trainers, payroll, selections (hiring), as well as the census takers who work in the field, obviously—and complete their count within a matter of months. Out of a degree of chaos and uncertainly, we completed the counts for the 2000 Census, which included obtaining a much-needed updated count of the population experiencing homelessness in Washington State.
What does a typical day look like for you?
A typical day for me includes meeting and fostering relationships with representatives of the fire services, emergency medical services, and criminal justice agencies in the region and state, as well as those at high schools and community organizations. I am also involved in curriculum and program planning, marketing and recruitment, supervising the staff, collaborating with faculty, and implementing process improvement so that we are delivering the best public value possible. A lot of my time in my first weeks has been spent learning EvCC systems and connecting with EvCC colleagues in other departments, to ensure we remain aligned with the College's mission and encourage cross-campus cooperation.
Describe yourself at 12 years old.
At 12 years old, I was really creative and active physically. I trained in karate 4–5 days a week and was always running around (usually outside) whether with friends or by myself. I would spend a ton of time drawing and coming up with my own ideas for role-playing games, video games, and action figure toys. I was also really into environmentalism and music, and started to read books about cultures from outside my small, privileged sphere.
What is your favorite meal/ snack in winter? Favorite winter beverage?
My favorite meal/snack in winter is a tie between soup with salad and buttered soda bread, or mac and cheese with hot dogs (usually veggie dogs). My favorite winter beverage is black tea with milk, which is my preferred beverage most seasons. It just stuck after living in the British Isles.
What would be the title of your autobiography?
Tough one. Maybe, From Jet City to Viking Town: A Mini-Odyssey of Animals, Imagination, Music, Combat Sports, and Public Service.
What is the first concert you attended?
I think it was a Tim Noah Christmas concert at the Bon Marché or Nordstrom—I guess, Snohomish County represent!
What is your favorite hobby or pastime?
My favorite pastime is being outdoors with my dogs, in pretty much any weather.
What are you reading right now/ what was the last book you read? Are you participating in any reading challenges?
The last book I read was Green Island, a fictional memoir that follows a Taiwanese family's experiences from the end of World War II, just after Taiwan had been a colony of the Japanese Empire, through its transition to the early Republic of China, and finally its transition to open democracy in the 1980s.
What one food do you wish had zero calories?
Chocolate. Perhaps not much of an original answer…but it's precious to me!
Where is your hometown? Were you born and raised in the same place?
I was born in Seattle but actually grew up from the age of 12 in Dublin, Ireland. I also bounced around a bit before coming back to the Puget Sound area to finish college.
Where do you see yourself in 5 years?
In 5 years I see myself still contributing to public service, hopefully with more education under my belt.
What do you like to do on your days off?
On my days off, I like to hike or walk with my dogs and sometimes go to concerts.
Do you have a favorite quote/ piece of advice?
I have two. One piece of advice that I try to follow imparts that, since there are no guarantees in life and ultimately, very few things matter, you should spend your time being happy, being kind, and loving what you do.
Another is that, although everyone has cowardice, the surest way to failure is to hang back out of fear. Rather, pursue challenges and engage in conflict with energy and joy, regardless of what the outcome might be.