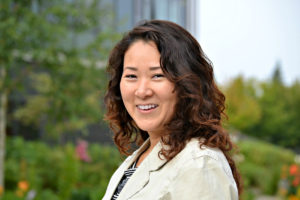 1) What is your title at EvCC, and what will you be doing in your day-to- day endeavors at the College?
My title at EvCC is Training Delivery Manager at Corporate and Continuing Education Center. My day-to-day job will be managing the certificate programs which involves scheduling, working with instructors, securing materials, spaces, enrollment turnovers pre and post-programs. I just started yesterday, so I really don't know much yet, but I'm very excited!
2) Tell us a little about your professional background.
I have worked for a travel company based in Tokyo, Japan for 25 years as the Seattle office representative and manager. I was in charge of logistics for students and professional groups visiting Seattle and elsewhere in the US, mainly the Pacific Northwest. Also, I've done guiding and interpretation of educational visits and lectures for students and professionals.
3) What was your most memorable job? Why?
The only other job I have done prior was the one at the travel company. Dealing with the students ranging from 14 to 20 years old was challenging, but also rewarding. I could offer them life-changing experiences, and at the end of tours when I heard how happy they were, a great satisfaction came over me!
4) What does a typical day look like for you?
I just started, so I really don't know yet how it will be, but I assume I'd work from morning until the end of the day, occasional traveling within town. But I really don't know yet.
5) Describe yourself at 10 years old.
I was in Japan, living in Yokohama-city. I was kind of a tomboy, since I was small. I played some sports most of the time-port ball (almost like basketball), softball, volleyball, soccer, swimming. I always loved animals, and I had a pet rabbit, parakeet, dog, etc.
6) If you had to eat one meal – every day for the rest of your life – what would it be?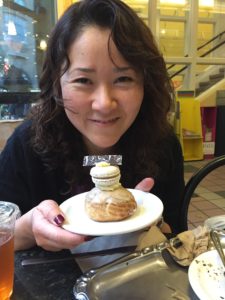 I have to have salad, with bunch of toppings!
7) What is your favorite movie and book?
Many favorite movies – My Fair Lady, Aliens, Lawrence of Arabia. The most recent favorite book is H is for Hawk by Helen MacDonald.
8) If your house was burning down, what's the one non-living thing you would save?
My family picture.
9) Favorite travel spot?
I've never been, but would love to go Yellowstone National Park.
10) What is your favorite hobby or pastime?
I love to dance – currently in the Brazillian Zouk dance team.
11) What are you reading right now/ what was the last book you read? Are you participating in any reading challenges, such as the EvCC Library's Super Heroes Summer Reading?
Currently reading The Flood Girls by Richard Fifield. The last book I read was Losing the Light by Andrea Dunlop. I'm not participating in any reading challenges.
12) What one food do you wish had zero calories?
French fries!!
13) Where is your hometown? Were you born and raised in the same place?
My hometown is Tokyo, Japan. I was born in Shimizu, Shizuoka; but raised in Saitama and Yokohama until junior high, and then I moved to Tokyo for junior high & high school.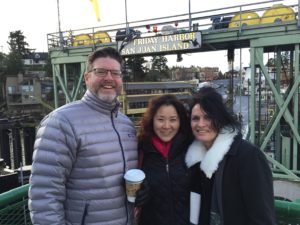 14) Where do you see yourself in 5 years?
Living in Seattle, working and enjoying my life!
15) What do you like to do on your days off?

Relaxing by cooking, visiting friends, maybe shopping?!
16) Do you have a favorite quote/ piece of advice?
Always try first, and not fear, and be considerate to others.