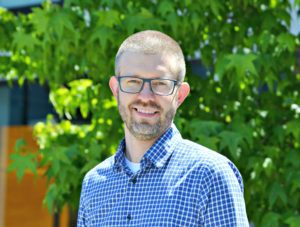 What is your title at EvCC, and what will you be doing in your day-to- day endeavors at the College?
I'm the Director of Educational Technology (previously the title was Director of eLearning). Broadly speaking, I'm responsible for helping faculty and students make effective use of educational technologies. That includes our campus learning management system, Canvas, but also extends to all sorts of other digital tools and technologies that can enhance teaching and learning at EvCC.
Tell us a little about your professional background.
I have worked in several different but closely related fields over the years. I began my career working in the electronic publishing division of a university press, where I got to work on some of the technical aspects of publishing medical, biological sciences, and astrophysics journals online. I later worked for a small digital humanities research project and non-profit publisher before moving on to a university teaching and learning center.
What was your first job?
My first full-time professional job was at a university press, but I paid for college partly by working as a delivery driver for a local pizza company and in the campus greenhouse.
What does a typical day look like for you?
I've only been on the job for a couple days, so it's hard to say exactly what things will look like once I've fully settled in. I expect I'll spend plenty of time every day meeting with faculty and administrators, discussing how technology is being used to support learning and to help students be successful, researching and adapting new technologies to the specific needs and circumstances of EvCC, and working with my colleagues here in eLearning and the Center for Transformative Teaching.
Describe yourself at 10 years old.
Bookish – I was always reading something.
What's the one thing you can't live without?
Oxygen
Are you messy or organized?
Probably somewhere in the middle.
What is the most important/valuable thing you have learned in the last five years?
There is no such thing as a quick fix for a complex problem. It's always better to take the time to understand something before rushing in without thinking.
What's on your bucket list?
I enjoy traveling, so I'm always thinking about visiting countries I haven't been to before. I hear Australia and New Zealand are both worth the trip.
What is your favorite hobby or pastime?
Almost anything that involves spending time outdoors: hiking, cross-country skiing, snowshoeing, etc.
What are you reading right now/ what was the last book you read? Are you participating in any reading challenges?
I'm currently reading Undermajordomo Minor, a novel by Patrick DeWitt.
If you could witness any historical event, what would you want to see? Why?
The Apollo 11 moon landing in 1969. It was the result of tremendous technical innovation, and it was an important cultural and social event as well.
Where is your hometown? Were you born and raised in the same place?
I grew up in South Carolina; I was born in North Carolina.
How many homes have you lived in since you were born?
Fourteen, I think – but I may have lost track of one or two.
If your life were a book, what would it be titled?
My Life: A Novel
Do you have a favorite quote/ piece of advice?
From a college professor : "When you're calmer, you're smarter." He was talking about writing, but it's good advice for anything you encounter in life.