What is your title at EvCC, and what will you be doing in your day-to-day endeavors at the College?
My title at EvCC is the Director of Workforce Funding: As a Director, I provide leadership and manage the day-to-day operation of Financial Referral Center and WorkFirst. The two departments, which I currently supervise, encompass Worker Retraining, Opportunity Grant, Basic Food Employment and Training (BFE&T), WorkFirst, Emergency Book Loan and the Job Center.
Tell us a little about your professional background.
As a child, I developed a strong interest for the criminal justice system because I was fascinated by the T.V show Criminal Law. Based on my interest with the show, I then oriented myself to pursuing a Bachelor of Arts in Criminology from the University of Washington. Upon graduating from the University of Washington, I realized that a career in the criminal justice system was not my passion and that's when my career took a turn toward the educational field. Eventually, I went back to school and received my Masters of Education from the University of Washington. I have a very diverse career path! I jump-started my career an early age with East African Community as Educational Engagement Personnel. In this role, I tutored the after school homework club children with their homework including Reading, Writing and Math then Employment Specialist with Center Career Alternative, then a Career Counselor with Asian Counseling Referral Services, then a Workforce Project Manager with Green River College, and now here Everett Community College as the Director of Workforce Funding.
What was your first job?
Educational Engagement with East African Community Services. I tutored kids with their homework in Reading, Writing and Math. Part of this position required me to confer with parents or guardians, teachers, administrators and other professionals to discuss the children's progress and resolve resolve problems.
How do you commute to work? What is your favorite radio station/ program to listen to on your commute (if any)?
I commute to work by car and my favorite radio station is Movin' 92.5 FM. My commute is long, approximately an hour and a half, so I like to keep my mind occupied with upbeat music and sometimes documentary-style radio.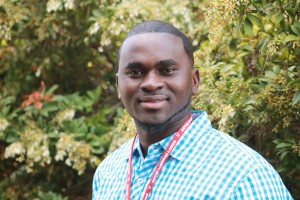 What are your goals/ ambitions in your position at EvCC? 
My goals/ ambitions in my position at EvCC is to foster the economic growth in the region by leveraging all Workforce and Financial Referral Center Funds (internal and external) to provide high quality and cost effective training solutions to Everett Community College' students. Because of my professional experience, I bring a unique perspective and an enthusiastic spirit to this position. I'm excited to see what the future holds!
What is your favorite hobby or pastime?
I enjoy watching sports on TV, and definitely rooting for the Husky Football team – Go Dawgs!
What are you reading right now/ what was the last book you read?
Currently, I'm reading workforce policy.
What's the best piece of advice you ever received? Why?
Give everything at your very best and eliminate excuses. I believe this is something that everyone can do!