What is your title at EvCC, and what will you be doing in your day-to-day endeavors at the College?

My title is Program Specialist 2 for Outreach & High School Programs, and I will be overseeing all of the reporting to the high schools and school districts for Running Start, as well as assisting prospective and current Running Start students. In addition to my main role, I will be helping to support Enrollment Services at the front counter sometimes.
Tell us a little about your professional background.


Prior to working in higher education, my professional background included working as a cashier, dishwasher, cook, and reservation specialist for a few companies.
I graduated with my AAS in Business Administration from Lake Washington Technical College (now Lake Washington Institute of Technology, LWTech) in 2011. While going to school, I worked as a workstudy in the Financial Aid and Advising offices. I was also a tutor for TRiO. Working with students every day and helping them succeed inspired me, and since I was also a student, I was able to connect with some on a different level.
After working at the college as a workstudy for a bit, I had current students stopping by to just say hi and check in. This made me feel good and realize that I wanted to work in higher education one day. Helping students succeed in their education and life became my goal and passion.
In 2014, I had my opportunity to work in higher education, and it was for my alma mater! I worked for LWTech in a few different roles including: Program Assistant I & Residency Officer, Program Assistant 2 & Residency Officer, and Admissions Coach & Residency Officer for the Enrollment Services and Admissions departments as well as Program Assistant 2 for the Workforce Development department. Within those roles, I did things like admissions for college students, registration for all students (high school and college), residency for college students as well as many other things to support students and my colleagues as needed.
Now, here we are in 2018, and I am happy to be starting my journey at Everett Community College where I look forward to learning and growing while still doing what I love, helping students achieve their goals!
What was your most memorable job? Why?
My most memorable job so far is actually my high school job where I worked at Happy Valley Kau Kau Corner, a little restaurant and gift shop that was on Maui in Hawai'i. When I was 16, I started as a cashier, shave ice (snow cone) maker and dishwasher, and then started cooking less than a year later after being eager and trying to help all the time in the kitchen. It was a small family run business and my aunty Loke (lo-keh) was the manager and cook. She trained her daughter Courtney and I to eventually open and close the restaurants by ourselves on slower days.
This is my most memorable job because it's when I really learned how to be responsible, careful, ambitious, and so many other things. I only had a short period of being the "irresponsible teenager" before I had to grow up. Courtney was 16 and I was 17 when we were given such big responsibilities! Learning how to cook yummy local to Hawai'I foods was a plus, especially now that I am away from home.
What does a typical day look like for you?
A typical work day for me now that I am at EvCC will include waking up at 5:30 (instead of 4 for my old job), making Brian and I breakfast and lunch, sending Brian off to work and then lounging on the couch or getting things done until it's time for me to get going. 😊 I am so new at the College, that I don't know what a "typical day" will look like yet, but I imagine I'll be reviewing and processing Running Start applications, answering emails/phone calls/in person inquiries, doing reporting, record-keeping, and maybe doing an outreach event for Running Start or helping out at the front counter for Enrollment Services.
Describe yourself at 13 years old.
13-year-old me was kind of awkward. I hit a growth spurt and was taller than all my friends, some of whom were about the same height as me the year before. My mom and aunty Loke decided to cut my bangs with a Flowbee and give me that poofy look AND I got glasses for the first time – which I hated, because I got teased about it. Besides all the negatives, I was a fun-loving girl who loved playing in the park with her friends, going to the mall, cooking (I started preparing dinners from start to finish for our family at 12ish), going to the beach, playing video games, etc. The best part of my 13th year was going on a field trip with my middle school all the way to Europe! 😊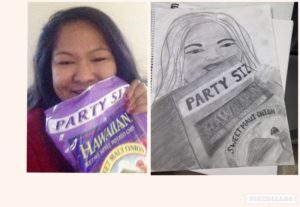 What is your favorite meal/ snack in spring? Favorite spring beverage?
My favorite snack, no matter the season…chips. Any kind; I am not chipist! 😊 During the spring, I love mocktails or cocktails…nothing specific just something fruity and cold.
What would be the title of your autobiography?
I don't know…I am not that creative. I'll just call it The Life of Andralia-Lei.
What is the first concert you attended?
Michael Jackson at the Blaisdell Arena on Oahu in 1992!
What is your favorite hobby or pastime?
In most recent years, it's been going on outdoors adventures whether it's a little walk around the neighborhood or at a park/beach, going on a little hike, or just relaxing outside. I can't believe that I have been living in Washington for about 12 years, and only started going on adventures in the last 3! On not so nice days, I enjoy staying in and playing video games with Brian. 😊
What are you reading right now/ what was the last book you read? Are you participating in any reading challenges?
Sad to say, I haven't read a book in a while! From start to finish, at least. I can't remember the last one I read.
What one food do you wish had zero calories?
CHIPS!!!
Where is your hometown? Were you born and raised in the same place?

My hometown is Waihe'e, Maui, Hawai'i. My parents, brothers and I moved around Maui a lot but Waihe'e was always our home because that's where my mom's parents and grandparents lived. We'd be there almost every day.
Where do you see yourself in 5 years?


In 5 years, I hope to still be working in Higher Education doing what I love, and maybe I can make becoming an Academic Advisor happen by then!
What do you like to do on your days off?
My ideal day off would include sleeping in, having brunch and then going on an outdoor adventure! Our favorite go to places are Wallace Falls and Deception Pass.
Do you have a favorite quote/ piece of advice?

If you don't like something, change it. If you can't change it, change your attitude. – Maya Angelou