What is your title at EvCC, and what will you be doing in your day-to-day endeavors at the College?
My title is Student Success Technology Specialist. I am currently working to implement the new Starfish platform, and will be providing support on that platform once it rolls out.
Tell us a little about your professional background.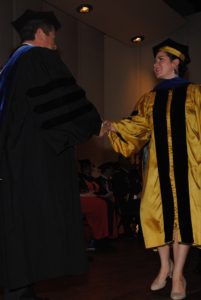 My background is a bit of a hodge-podge. I have an undergraduate degree in general engineering, and a masters and doctorate in civil engineering, looking at the impact of disasters on healthcare systems. My previous jobs before coming to EvCC, though, were tutoring K-12 students in math and English, and working with a legal firm to coordinate the mass filing of civil cases.
What was your most memorable job? Why?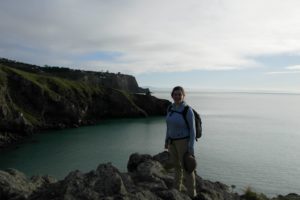 In 2013, I lived in New Zealand for several months as an earthquake researcher, sponsored jointly by the US and NZ governments. That was especially memorable because it was both my first time living abroad and the first time I coordinated a large scale project by myself. It was also memorable because the South Island of New Zealand is indescribably beautiful, and those three months included some of the best hiking of my life.
What is your favorite meal/ snack in fall? Favorite fall beverage?
In the fall, I love to make soups. Beef stew, chicken gnocchi, avgolemono, fishball udon. My favorite, though, is turkey Italian wedding soup, with lots of sage and homemade turkey stock.
What are you reading right now/ what was the last book you read? Are you participating in any reading challenges?
Currently, I am reading Seanan McGuire's The Girl in the Green Silk Gown. Her books are always delightful, and it's nice to support a local author.

Where is your hometown? Were you born and raised in the same place?
I was born and raised right here in the north end of the greater Seattle area! I lived in Shoreline and Mountlake Terrace my entire childhood. When I finished my graduate degree on the east coast, I knew I had to come back here, because there is no place in the world like the Pacific Northwest.
What do you like to do on your days off?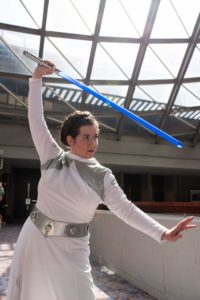 In my free time, I dress up as Star Wars characters and do lightsaber shows to raise money for charity, as a member of several international clubs. I also sew a lot of film-accurate costumes as a part of my involvement with these groups. Most weekends, you can find me out in the community somewhere, dressed as a Jedi or Princess Leia or an X-wing pilot and generally being nerdy for good causes.