What is your title at EvCC, and what will you be doing in your day-to-day endeavors at the College?
I'm at the new Senior Graphic Designer in College Advancement. I will be helping the college community promote and communication all the great things that are going on here to various audiences. You will most likely find me in my natural habitat – behind the computer monitor staring at photos, fonts, and graphics.
Tell us a little about your professional background.
My experience as a graphic design has centered around the communications/PR fields but I have had a variety of experience in this arena. I've been in an in-house communications department with North Carolina's court system. From there, I worked as a graphic designer in a communications agency and had the experience of working with external clients. For the past year and a half, I've been a freelancer working on projects from a variety of communications-related projects ranging from higher education/research to agribusiness and non-profit organizations.
What was your most memorable job? Why?
Probably my first job. I was a tomato grader at a farm. It wasn't a terrible job (I got to work with my friends), but it was one of those jobs that made you realize what you DON'T want to be when you grow up.
What does a typical day look like for you?
Sending emails, flexing my creative muscles in Photoshop, InDesign or Illustrator, meetings. Outside of work, taking care of my daughter and other tasks to keep the house going. My husband's job takes him away from home a lot so there's never a dull moment for me.
Describe yourself at 10 years old.
My memory isn't that good. Haha. I would say I was artistic and shy, an animal lover, ballet dancer, and softball player.
What is your favorite meal/ snack in autumn? Favorite fall beverage?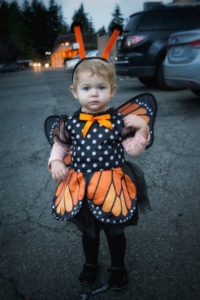 Soup. I love potato soup and split pea soup. Of course, coffee and/or hot chocolate is a must.
What is your favorite movie and book?
What are those? I have a 19 month old.
I do watch several tv shows though. I'm big on sitcoms and will never tire of The Office. I also like Modern Family, The Middle, This is Us, The Good Place, and Superstore to name a few. My DVR gets worked regularly.
If your house was burning down, what's the one non-living thing you would save?
My computer. It has all the important information; photos, videos, saved passwords…
Favorite travel spot?
Cozumel, Mexico was pretty awesome and I'd love to go again. But after being on the west coast the past year and a half, I'm a little nostalgic for the NC & SC coast; Charleston, Myrtle Beach, Wilmington, Emerald Isle, Bald Head Island, and the Outer Banks.
What is your favorite hobby or pastime?
I don't have too much free time, but I like to exercise and coupon.
What are you reading right now/ what was the last book you read? Are you participating in any reading challenges?
I have many a book downloaded on my phone with many only partially read. The last book I ready from cover to cover was #girlboss. Written by Sophia Amoruso, it's an autobiographical book about her journey from dumpster diving to running a multi-million dollar fashion empire.
What one food do you wish had zero calories?
Ben & Jerry's Addicted to Chocolate
Where is your hometown? Were you born and raised in the same place?
Born and raised in Salisbury, NC until I went off to college.
What do you like to do on your days off?
Sleep, eat, explore the area (I'm still learning what all is around here!)
Do you have a favorite quote/ piece of advice?
"The goal of a designer is to listen, observe, understand, sympathize, empathize, synthesize, and glean insights that enable him or her to 'make the invisible visible.' –Hillman Curtis