What is your title at EvCC, and what will you be doing in your day-to-day endeavors at the College?
Director for MESA (Math, Engineering, Science Achievement).
The MESA Community College Program (MCCP) is an on-sight, direct service model that serves underrepresented students seeking to major in STEM, with academic support and professional development to ensure they excel academically and transfer successfully to a four-year institution to earn an STEM degree. Our new MESA Center is located in Monte Cristo 204, and we hope to use this space to create a home away from home for our students where they can find community, study in groups and build skills through our workshops.
Tell us a little about your professional background.
I have worked in higher education for over eight years. My passion to serve underrepresented students in education ignited when I became a Student Ambassador for the Office of Minority Affairs & Diversity (OMAD) at UW, Seattle in 2008. After graduating with my BA, I continued working for OMAD in different roles, gaining experience in pre-college programs, admissions and staff diversity efforts. While earning my Master of Social Work degree, I worked in admissions at UW, and also in health and mental health at the Downtown Emergency Service Center, Crisis Diversion Facility (DESC-CDF), and also at the Mount Vernon VA, Community Based Outpatient Clinic. I was most recently working with TRIO Student Support Services at UW and it was wonderful to contribute to a program that I was once a beneficiary of, as in 2006 I was an EdCC TRIO SSS student myself.
What was your most memorable job? Why?
In 2010, I worked for another MESA program (MESA WNSEP- Washington Native American, Science, Engineering Program) over the summer and I got to work with over 20 high school students, many of them being from my Tribe (Yakama Nation). During our program, I stayed with our students in a UW Seattle dorm, which was my first "dorm" experience, (very memorable). But, what was most memorable and meaningful about this job was getting to connect with the students and to see the look of wonderment and intrigue they expressed during all the cool STEM activities they participated in. I also remember when I had to say goodbye to them at the end of our program. It was a difficult farewell, but my heart felt full of gratitude for the opportunities we had shared.
What does a typical day look like for you?
To be determined…
Describe yourself at 12 years old. 
At the age of 12, I was really into music and dance. I recorded all the Janet Jackson videos onto VHS to memorize the steps. I also enjoyed reading. It was during my 12th year that I fell in love with blues, jazz and reggae music. This was also about the time that began to understand the importance of social justice. To be honest, I was feeling pretty awkward about life that year, which I guess is normal for a preteen.
What is your favorite meal/ snack in winter? Favorite winter beverage?
I love to make homemade soups during the winter, and I drink a lot of honey lavender tea.
What would be the title of your autobiography?
Learning to Dance
What is the first concert you attended?
My first concert would have been Michael Jackson, but he got the flu and had to cancel, thus my first concert was…New Kids on the Block. I still wish I had seen Michael Jackson. He was always my favorite!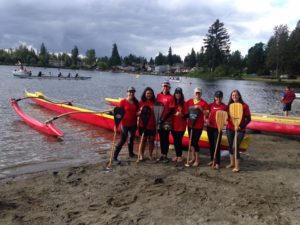 What is your favorite hobby or pastime?
I'm on an outrigger canoe paddle team, Hui Wa'a O Puget Sound with the Hawaii Club of Everett. I would say paddling, dancing and hiking are my favorite hobbies.
What are you reading right now/ what was the last book you read? Are you participating in any reading challenges?
The last book I read was Being Mortal, by Atul Gawande. It's one of my favorites.
What one food do you wish had zero calories?
Pizza!
Where is your hometown? Were you born and raised in the same place?
I was born in Stevens Hospital in Edmonds and I've lived in Seattle, Mount Lake Terrace, Everett and Brazil. I spent most of my K-12 years in Everett and consider South Everett my hometown.
Where do you see yourself in 5 years?
I hope to continue to serve underrepresented students. I also will strive to be a stronger paddler with each year.
What do you like to do on your days off?
I like to explore the outdoors including nature and the city, paddle, hike, watch movies, cook, spend time with family, friends and especially my two nephews. I also like to connect with community at Pow wows.
Do you have a favorite quote/ piece of advice?
One of my favorite quotes is from Albert Einstein, "The true sign of intelligence is not knowledge, but imagination."